By Jennifer Duvall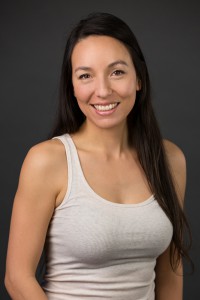 When did you start practicing yoga?
I started doing yoga in 2009, 7 years ago.  My first class was a Kundalini Yoga class by Harijiwan, it was magnificent! I knew I had to keep doing yoga after that day.
Why did you decide to start teaching?
I took the teacher training out of my love of yoga rather than thinking that I would teach. I wanted to learn more about yoga and about myself. I realized towards the end of the training that I had learned a lot and it was too good to keep to myself: that made me want to teach yoga.
What has been your largest challenge practicing yoga?
When I first started it took me a long time to build up my stamina to do more energetic practices. Even though I was a runner at the time, many of my muscles were not involved and I could really feel it when I began a yoga asana practice.
How are a few ways yoga has helped you?
Wow! It has helped me in every aspect of my life. The breathing is big and is the basis of everything that has changed for the better. One example is that I would sometimes get sleep paralysis. After starting doing yoga I became able to breath through that time. Being able to breathe through that has changed my whole experience of sleep paralysis and I have had some amazing experiences in the sleep paralyses state after I was able to relax my body and breathe.
What can people expect to find in your classes?
I like to really focus on the breath. To me it carries so much magic. I hope that others can feel that intangible happiness too.
What is it about Yoga Flow that makes it your choice of practice/teaching?
I like letting my breathing guide me in and out of poses. I really like the fluid feeling of it.
Jennifer is a certified yogic numerologist. She studied numerology with Nam Hari for 3 years. For more about her yogic numerology see her Facebook Page Numinous Numerology.
Jennifer is married to her best friend and is a mother of two. When she has free time she loves to sew children's clothes, read and relax at Pyramid Lake.
Jennifer offers her Yoga Flow for Beginners FREE, one morning only, on Wednesday, August 31, 2016. Come let her introduce you to the joy of moving with your breath.