AS OF 9/26: THIS WORKSHOP IS BEING RESCHEDULED DUE TO LOW REGISTRATION
We hope to reschedule in 2020. Email info@theyogacenterreno.com if you would like to be added to the interest list.
Join the Accessible Yoga Movement!
Accessible Yoga Training
October 25 – 27, 2019 at The Yoga Center Reno
with Brenda Bakke and Mary Fuhr
Accessible Yoga is an international advocacy organization focusing on sharing yoga with all. We offer Accessible Yoga Conferences, Journal, and the Accessible Yoga Network. The Accessible Yoga Training focuses on how to make the yoga teaching available to everyone, regardless of their level of physical ability. We'll focus on creating Integrated Accessible Yoga classes where all student can practice together. We'll express the many ways that yoga practice can be modified to suit students with disabilities, physical challenges, as well as seniors.
We'll consider how to make our classes welcoming to everyone, and to approach students in a trauma-informed way. You'll learn sample Accessible Yoga classes, chair yoga classes and even bed yoga classes. We'll also look at ways of bringing the yoga teachings and meditation into your classes, and how all of yoga can be used to support health and healing for every body. We'll also review common medical conditions so that you have a basic understanding of these issues.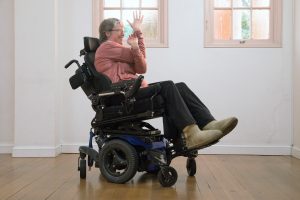 Graduates of the program become Accessible Yoga Ambassadors and connect with a network of Accessible Yoga teachers and students around the world. Participants who have completed a 200-hour yoga teacher training will become Certified Accessible Yoga Teachers.
Accessible Yoga Training Curriculum
Adapted Asana
Variations of the most popular asanas
Techniques for creating integrated Accessible Yoga classes
Sample Accessible Yoga classes, either on the floor, in a chair, or in a bed
Yoga Anatomy and Physiology
Overview of common medical conditions such as diabetes, arthritis, respiratory diseases, cancer, H.I.V/AIDS, heart disease and more
A review of some of the major impacts of aging on all the systems of the body
Yoga Psychology
How to empower people with disabilities by giving them a deep understanding of the Yoga teachings. Includes study of The Yoga Sutras of Patanjali and The Bhagavad Gita
Pranayama and Meditation
How to make the subtle practices available for all students, regardless of ability
Community
How to build a strong community among Yoga students to support the transformational process of Yoga
DETAILS:
Location:
The Yoga Center Reno
720 Tahoe Street #C
Reno, Nevada 89509
Schedule:
9:00am-5:00pm each day
Tuition:
$650, $595 early bird by 9/25/19
This course is worth 21 Contact & 9 Non-Contact Yoga Alliance CEUs
Cancellation Policy:
Once you have accessed the online materials there will be no refunds of the registration fees. As long as you have not accessed the online materials, cancellations will be eligible for a 50% refund before 9/11/19. No refunds after the start of the training.
To Register: This workshop is being reschedule due to low registration. We hope to offer it again in 2020. Please email info@theyogacenterreno.com if you would like to be added to the interest list.
About the Instructor: Brenda Bakke, PT, M.Ed., C-IAYT, is a Physical and Yoga Therapist (C-IAYT) who has successfully integrated yoga methods into her physical therapy practice since 1999. By integrating the ancient teachings of yoga with the developmental and biomechanical systems of physical therapy, Brenda creates individualized movement and mindfulness practices that are fully accessible and promote health and well-being in her students. She focuses on breath awareness to inspire a sense of calm and connection with one's true self.  Brenda has participated in advanced trainings with Sonia Sumar, founder of Yoga for the Special Child (YSC), and has completed in depth studies with Gary Kraftsow.  She is an Accessible Yoga Teacher & Trainer and a contributing author of Healing Practices to Help Kids Grow Up Easier. Brenda enjoys teaching yoga and physical therapy workshops around the country and introducing yoga and mindfulness into educational and healthcare settings. Connecting with the elements of nature is vital in her life and in her sharing of yoga. Brenda lives in Seattle, Washington with husband Dennis and dog Otis, and owns Bakke Physical and Yoga Therapy Services.