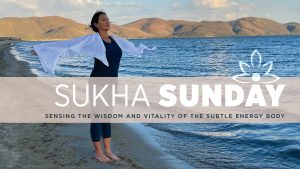 SUKHA SUNDAY
Sensing the Wisdom and Vitality of the Subtle Energy Body
with Monica Limon, ERYT 500, YACEP
Sunday, January 9, 2021, 10:00 am – Noon
Offered In-Person and Online
"Yoga is the journey of the self. Through the self. To the self."
– The Bhagavad Gita
The focus of this extended asana and meditation practice is to awaken the subtle energy body by allowing prana or life force to move deeper into the connective tissues, muscles, joints, and bones – creating "Sukha" a space of ease to exist in one's own true nature.
In this class, Monica will integrate the biological energies of the three Ayurvedic doshas; Vata, Kapha, Pitta with the more subtle energies of our feeling body to promote a sense of wisdom and vitality within the body, breath, and mind.
This class is for all levels.
Cost: $20, pre-registration is required. Must reserve your space by January 7, 2021.
Book Now: bahiyoga.com
Covid 19 Safetly Protocol: Everyone, regardless of vaccination status, is required to wear a face mask while inside The Yoga Center.
Upcoming Sukha Sundays:
Jan. 23
ABOUT THE INSTRUCTOR
Monica Limon, E-RYT 500, YACEP
Monica blends her love for the ancient healing system of Ayurveda, the dynamic energies of the doshas, the subtle energies of the chakras with the wisdom of yoga to calm the body, clear the mind and lighten the heart. Monica guides her students to bring attention to alignment, breath awareness, and joyful movement, allowing a personal exploration of the whole body. She welcomes her students to create internal space to meet their yoga practice with patience, understanding, and compassion.
Monica has been practicing yoga since 1999 and teaching since 2010. She completed her 500 Hour Expanded Advanced Study/Teacher Training Program with Kim Orenstein at Yoga Loka in Reno, NV. Throughout her teaching career, she has studied with Camille Maurine, Dr. Loren Roche, Anodea Judith, Alan and Sarah Finger, Rod Stryker, Tias Little, Dr. Vasant Lad, Bernie Clark, Paul Grilley, and Sarah Powers.
CONTACT MONICA
Email: monica@bahiyoga.com
Phone/Text: (775) 843-8517
Web: bahiyoga.com