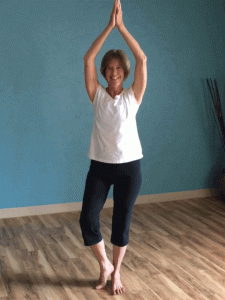 Yoga for Arthritis with Diane Dunn
8 Mondays/Wednesdays (16 classes)
11:00 am – 12:00 pm, Sept. 23 – Nov. 11, 2019
Cost: $180 for 8 weeks
To reserve your spot: Phone/text (775) 870-2092 or email: dunndiane2@icloud.com
This 8-week series is for people living with arthritis or similar symptoms of pain and stiffness. It draws from a variety of styles to best address the specific needs of people with arthritis. Dr. Steffany Moonaz, PHD, a leading expert on yoga for arthritis, designed this program while working with researchers and rheumatologists. The program requires you to listen to your body and respond to its needs, which can vary from day to day. It is not just a modification of a yoga class with props; it also combines information about diet, meditation and physical activity to support students with the healing aspects and full benefits of a complete yoga practice. Another goal of this program is to help students move past the point of joint discomfort to get the benefit of a pose and begin to create their own home practice. The course comes with a manual and meets twice a week and has home activities as well as class time.
About the Instructor: Diane Dunn, RYT200 is a licensed Yoga for Arthritis teacher. It was the information and experience that she got from her own work with yoga and therapy after a knee replacement and her course with Dr. Moonaz that motivated her to share this information with the community. Read more.
Testimonials:
"I thoroughly enjoyed and appreciated the eight-week workshop "Yoga for Arthritis".  I learned poses that I can adapt to my limitations and when and how to push myself passed those limits.  For someone who has dealt with RA for over 10 years I felt blessed to not only help myself, but to be strong again." —Former Student
"Since we started taking yoga for arthritis lessons with Diane almost a year ago, we are more aware of the importance of our posture in controlling arthritis, our back and core muscles are stronger and our legs appreciate the stretches we practice to break up long periods of sitting. Diane watches us carefully to suggest modifications in our movements and introduces us to varied alternative poses and props that are appropriate for our individual needs (male vs female, particular arthritis pain points, strong vs less strong muscles). We end each hour of yoga practice feeling refreshed and more capable of managing our arthritis, knowing that motion is lotion." —Former Student
"Really enjoyed Yoga for Arthritis class.  Gave me great steps and impetus for starting my own home yoga practice.  Diane was very knowledgeable in teaching alternative, but very effective, yoga poses and moves for individuals restricted by arthritis and other limiting factors." —Former Student