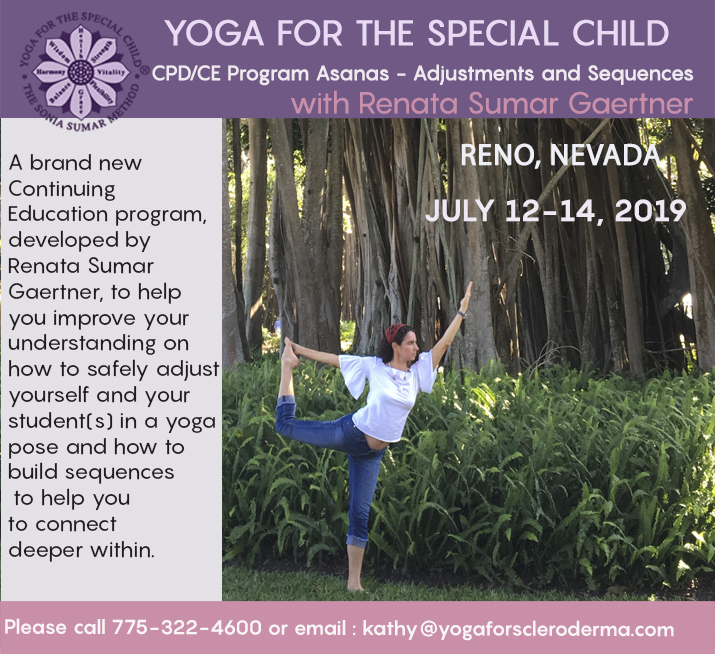 Asanas – Adjustments and Sequences – Learning to go beyond
with Renata Sumar Gaertner
July 12 – 14, 2019
Friday, 5:30 – 8:30 pm; Saturday/Sunday, 8:00 am – 4:00 pm

Program Information:

A brand new Continuing Education program developed by Renata Sumar Gaertner to help you improve your understanding on how to safely adjust yourself and your student(s) in a yoga pose and how to build sequences to help you to connect deeper within.
The program includes:
Morning Meditation and Hatha Yoga Class.
How to add variations to Surya Namaskar without losing its focus and flow.
Anatomy of asanas – how to apply the knowledge when teaching yoga poses.
Adjusting yourself in a yoga pose and cultivating inner awareness.
Adjusting your students in a class.
How to teach them the knowledge of learning from within.
The practice of Pranayama to increase focus during your practice of asanas. Creating sequences for yoga class that will accommodate different levels of students.
Who should attend:

This course is open to therapists, Yoga instructors and Yoga students with a year or more of Yoga practice/experience.
Tuition:
$530 by check, due by June 11, 2019
$480 Early Bird discount, due by April 10, 2019
$550 if you request a PayPal invoice.
For more information see our Registration Letter.
Registration link: https://goo.gl/forms/nMA7d0Ll7mk8U1iE3