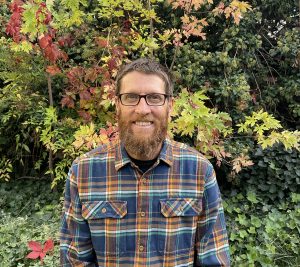 David began practicing yoga in 2000. His interest in yoga originally began as a way to improve his flexibility but soon realized that the practice of yoga is a powerful and transformative way to live your life. David leads an active lifestyle, participating in activities such as cycling, cross country skiing and long distance bike packing. Yoga helps him to remain strong and healthy while pursuing these passions. He is a graduate of the 200 hour teacher training course with Kim Orenstein. David is a forever student who is constantly seeking a deeper understanding of  his many interests.  David hopes, through his teaching, to share his love of yoga with others and to guide and inspire them on their journey.
CLASSES:
Gentle/Chair Yoga with David
Mondays, 4:00 – 5:00 pm
Offered in-person
Yoga with David
Mondays, 5:30 – 6:45 pm (beginning Feb. 6; no class on the third Monday of every month.)
Wednesdays, 5:30 – 6:45 pm
Offered in-person and online.

COVID SAFETY: Masks are optional at this time.
YOGA WITH DAVID classes are a mindful journey of movement and the breath that guides that movement. During the class we will explore the balance between stretching and strengthening, mobility and stability. Instruction is detailed and precise, making space for students to experience the interplay of mind, body and breath. Movement sequences are fun and creative with variations offered to support our practice on and off the mat. These classes are for everyone, every age, every body.
GENTLE/CHAIR YOGA WITH DAVID shares the same description as the class above but the practice is gentle in nature. We will make use of a variety of props (such as a chair, blocks, straps) to support our practice.
PROPS FOR THESE CLASSES:
All props will be available at the Yoga Center, but if you prefer to use your own, please bring:
– A yoga mat
– Two blocks
– A blanket
– A strap
– A therapy ball/tennis ball/pinky ball
CLASS FEES: drop-in sliding scale: $10 – $20, 5 classes for $70 (must be used in 90 days), 10 classes for $130 (must be used in 90 days)
PAYMENT OPTIONS:
Venmo: @David-Funk-20 ; Zelle: 775-762-8456; Cash or Check. If paying with cash, please bring the exact amount as I may not have change available.
CONTACT / REGISTER FOR CLASS: Reservations are appreciated and drop-ins are always welcome.
To RSVP or to get the link to join online, text me at 775-762-8456 or email me at 1funkdrummer@sbcglobal.net If you have any other questions, please feel free to text or email me at the phone number or the email listed above.