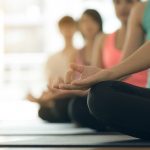 LADIES' BREATHE AND FLOW SERIES
6-Week Series with Heather Keenan
6 Tuesdays, 12:30 – 1:30 pm
October 15 – November 19

Cost: $60 for 6 classes or $15/drop-in

To Register: email heatherkeenan7@gmail.com. Payment accepted through Venmo @Heather-Keenan-2 or by cash/check at the door

Ladies Breathe and Flow is a gentle 6-week ladies only series designed for those dealing with depression, anxiety, PTSD or just need an hour to breathe! Focusing on trauma-sensitive breath techniques and gentle movements, this class will offer tools that can be used on and off the mat. All levels are welcome.
Yoga has been a passion of Heather's for the past 12 years. After completing her RYT-200 through YogaFit, she attended a training for yoga for PTSD, and realized the potential that trauma-sensitive yoga has to be a tool in healing, while also seeing the lack of knowledge about and accessibility to it. She went on to complete the YogaFit for Warriors program, which is specifically trauma-sensitive yoga, and now is trying to bring awareness of it to the community she loves and grew up in. She currently teaches at-risk youth in the community with Urban Lotus Project, and is hoping to bring this model to adults in the community as well. When not teaching yoga, Heather helps with the family's real estate business and loves to spend time with her husband and 2 children, doing anything outdoors.